Spend A Night In Scooby Doo's Mystery Machine Camper For Only US$20
Not everyone today knows what/who Scooby Doo is but this writer remembers and she's not talking about the live-action film 20 years ago. My memory goes way back to the 80s rerun of the cartoon which originally ran between 1969 to 1970. If you, like me, have fond childhood memories of early mornings watching Scooby Doo, a Great Dane (dog), and his gang of four teenagers—Fred, Shaggy, Daphne and Velma—solving a mystery involving supernatural creatures in each episode (they usually turn out to be very much humans in disguise), then you'd be pleased to read this.
TURN RON95 INTO RON98 WITH X-1R OCTANE BOOSTER:
The gang aka Mystery Inc. rode in a legendary fictional camper, which name "the Mystery Machine" was emblazoned across the side with a flower power theme befitting the era. The machine came to life in the 2002 live-action film directed by Raja Gosnell. Now, in conjunction with the 20th anniversary of the live-action film, the studio is making the vehicle available for rent for overnight stays on Airbnb. Yup, you read right.
The Mystery Machine will be parked on the coast of Southern California this summer overlooking the Pacific Ocean for three sets of two guests between 24 to 26 June. But every Airbnb accommodation has a host, right? Well, so does this one and it is none other than Shaggy, who is Scooby's best friend and owner, or more accurately the actor Matthew Lillard who played him in the film.
"Zoinks! It's been 20 years since I played Shaggy in the first live-action 'Scooby-Doo' film by Warner Bros., but his spirit has been with me since," said the 'host' in the Airbnb listing. "To celebrate, I'm throwing it back to 2002 with a totally groovy stay in the gang's beloved Mystery Machine, monsters not included."
The listing also states that it has 1 bedroom, 1 bed and a half bath (where, though?) offering mountain and ocean views. The camper is clearly in pristine condition and its features include a Sugar Ray's album on a portable CD (Kids, if you don't know what that is, it's how mom and dad used to listen to music. Each disc held only 10 to 12 songs. Gasp, I know.) Decorations also include a lava lamp, Shaggy's signature puka necklace, Scooby's collar and the gang's outfits.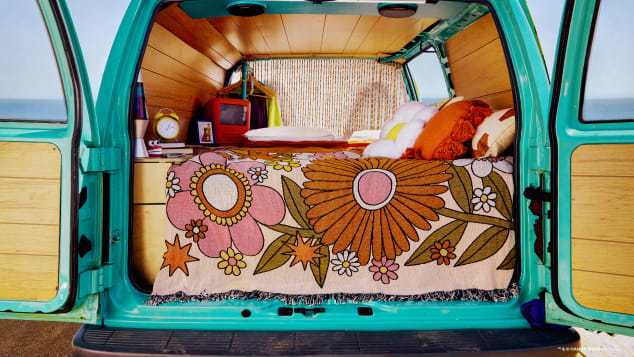 The interior 'looked' very different in the movie though:
The booking will include access to a lounge area and a hammock because, seriously, that view deserves a nice place to appreciate it from.
If you are a fan and was hoping to snag yourself a night's stay in the Mystery Machine, then sorry to tell you that all three nights were sold out within minutes of the bookings being opened.