One Stranded Ship in the Suez Canal Has Reverted Shipping Routes to the 1800s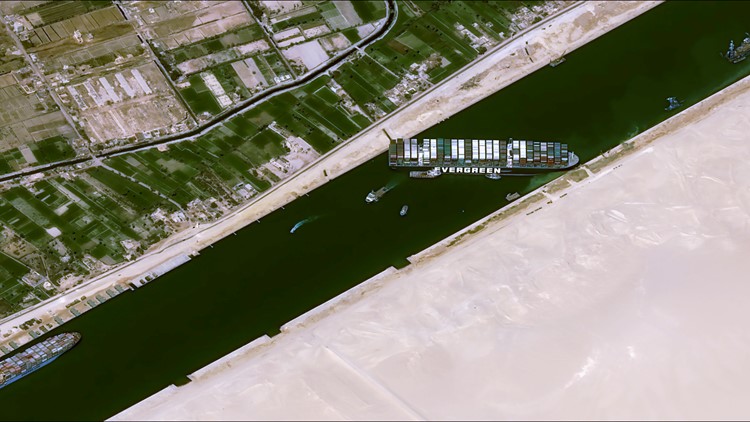 A huuuge cargo ship called the Ever Given sailed from the Red Sea into the Suez Canal on 23 March and not long after, while in a narrow stretch of the canal, became stuck sideways and effectively blocking other ships ferrying billions of dollars of goods from passing through and getting to their destinations around the world. The Taiwanese company which leased the ship, Evergreen Marine Corp, blamed strong winds for causing the ship to deviate from its course and eventually getting stranded.
The artificial waterway was built between 1859 and 1869 to shorten the route between Europe and Asia by cutting through Egypt and reducing travel distance by up to 7,000 kilometres. Prior to its existence, ships had to navigate around Africa, passing the Cape of Good Hope. Now, as attempts to free the stranded ship since Tuesday continue to fail, some of the 150 or so waiting ships have decided to revert to pre-Suez-Canal travel routes in the late 19th century and have set off on the longer and more tedious and way more expensive route past the southern tip of Africa. Other ships that are farther away are now having to weigh between continuing on towards the canal or starting to deviate towards alternative routes.
An analyst speaking to The Wall Street Journal estimates that the longer journey could add an additional US$450,000 to the cost. Other maritime experts calculate that it could take a container ship an additional 150 hours to complete its journey, and that is fast compared to an oil tanker, which could clock in an extra 300 hours (that's 12 and a half days) to finish the journey. With an average of 51.5 ships that use the Canal a day, that's a lot of extra time and money, and plenty of lawsuits awaiting Evergreen Marine in the coming future.
But why is it so hard to dislodge a ship in the canal? Well, mostly it's because the Ever Given is a really, really big ship – about 400 metres long and 59 metres wide, which is like a skyscraper lying in its side. For comparison, the Ever Given is almost nine-tenths the height of the Petronas Twin Towers.
Workers had attempted to free the ship by dredging the sand and mud where the ship had run aground, and also to wait for a high enough tide to give the ship a sufficient lift. If that fails, then the next course of action is to remove cargo from the ship to lighten it. Meanwhile, the price of crude oil has already started to escalate as fear of supply disruption is starting to grow with every hour that the Ever Given remains steadfastly wedged.